RESILIENCE AT WORK
7 DAY DIGITAL COURSE
Next 'open' course

19th July 2021
'Resilience' – a
set of abilities
that enable
good outcomes
in spite of
serious threats.
How high is yours or your team's Resilience at the moment?
How high does Resilience need to be for achieving your goals in 2021 and beyond?
Are you able to thrive with all the change and challenges being faced?
What is Resilience anyway?
On some level you and your people are already Resilient, through experience and learning we build a base level of Resilience. But is this enough? There are a proven set of Resilience abilities that the most elite people on the planet have been trained in to cope with even the most extreme circumstances, this includes Army Marines, Navy Seals and High Performance Athletes. 
This is a collaborative, community learning experience where the focus is on becoming Resilient, not just getting told what Resilience is. Learners will be challenged to apply new things, not hard things, but potentially life changing things…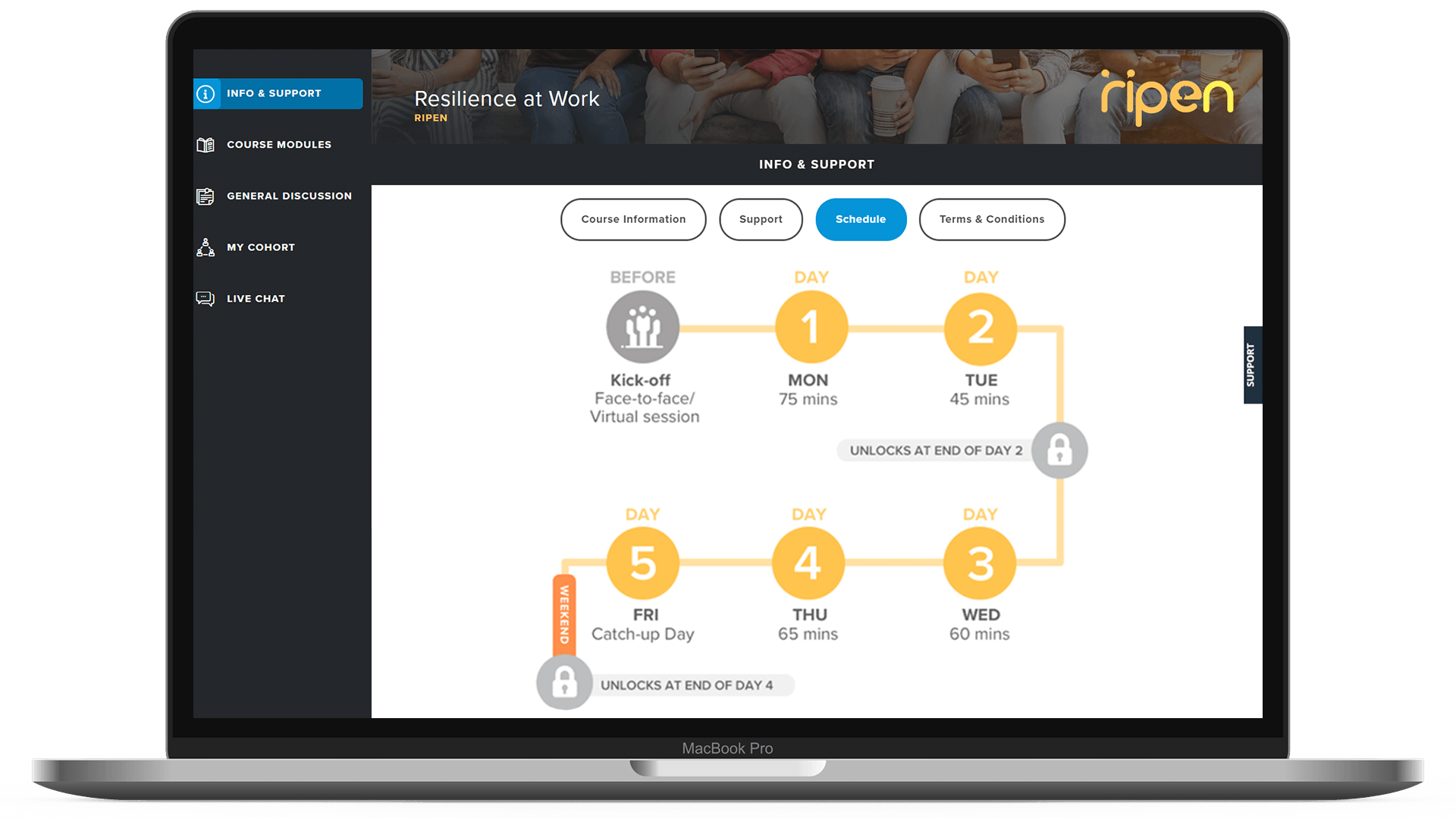 The course will take approximately 8 hours to complete over 7 working days.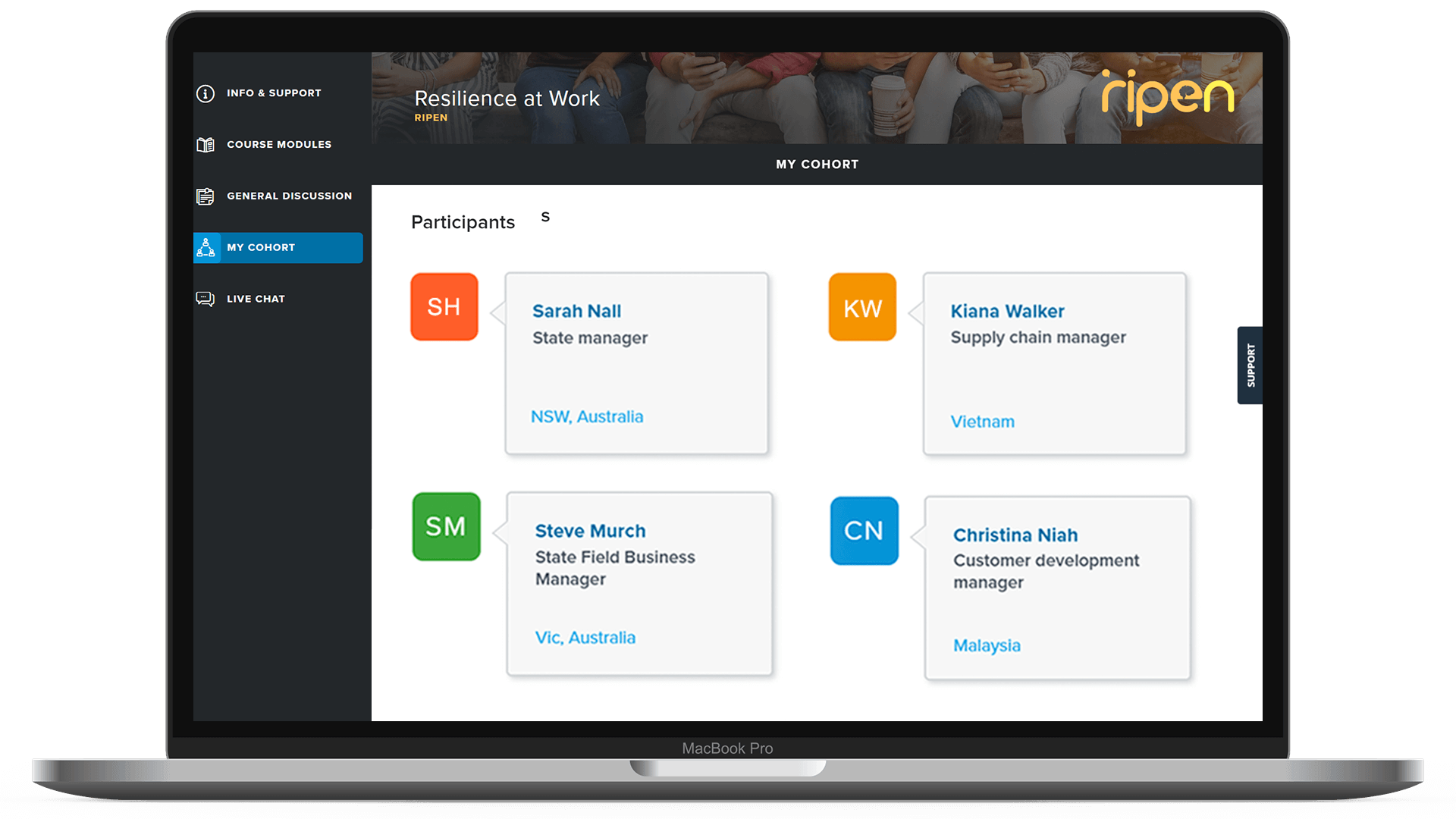 People start the course together on the same date, and end the course together.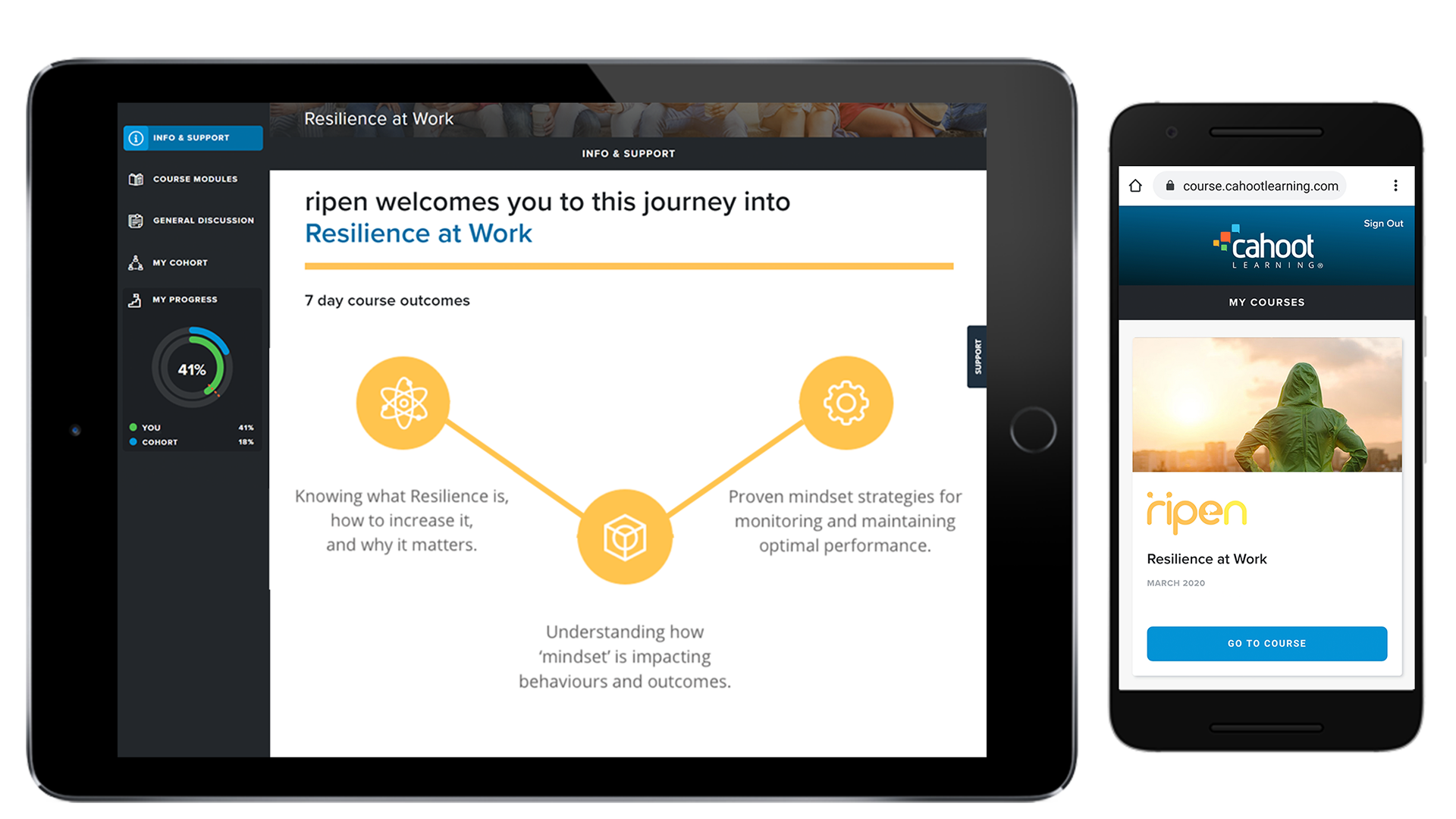 People can participate at any time, from any computer or device (phone, tablet).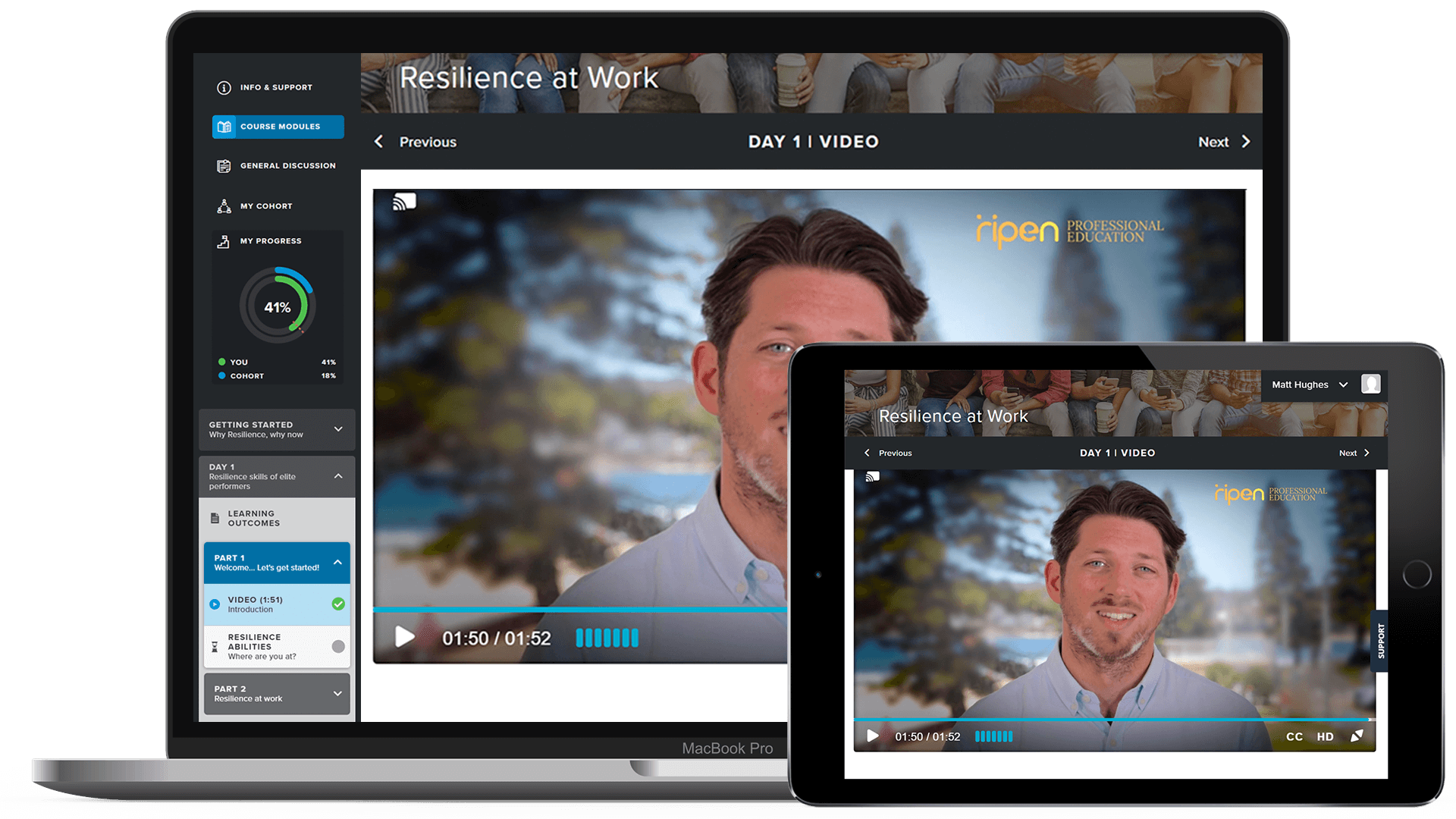 Expert coaching and support throughout – this is a fully-facilitated digital learning experience (not self-paced eLearning)!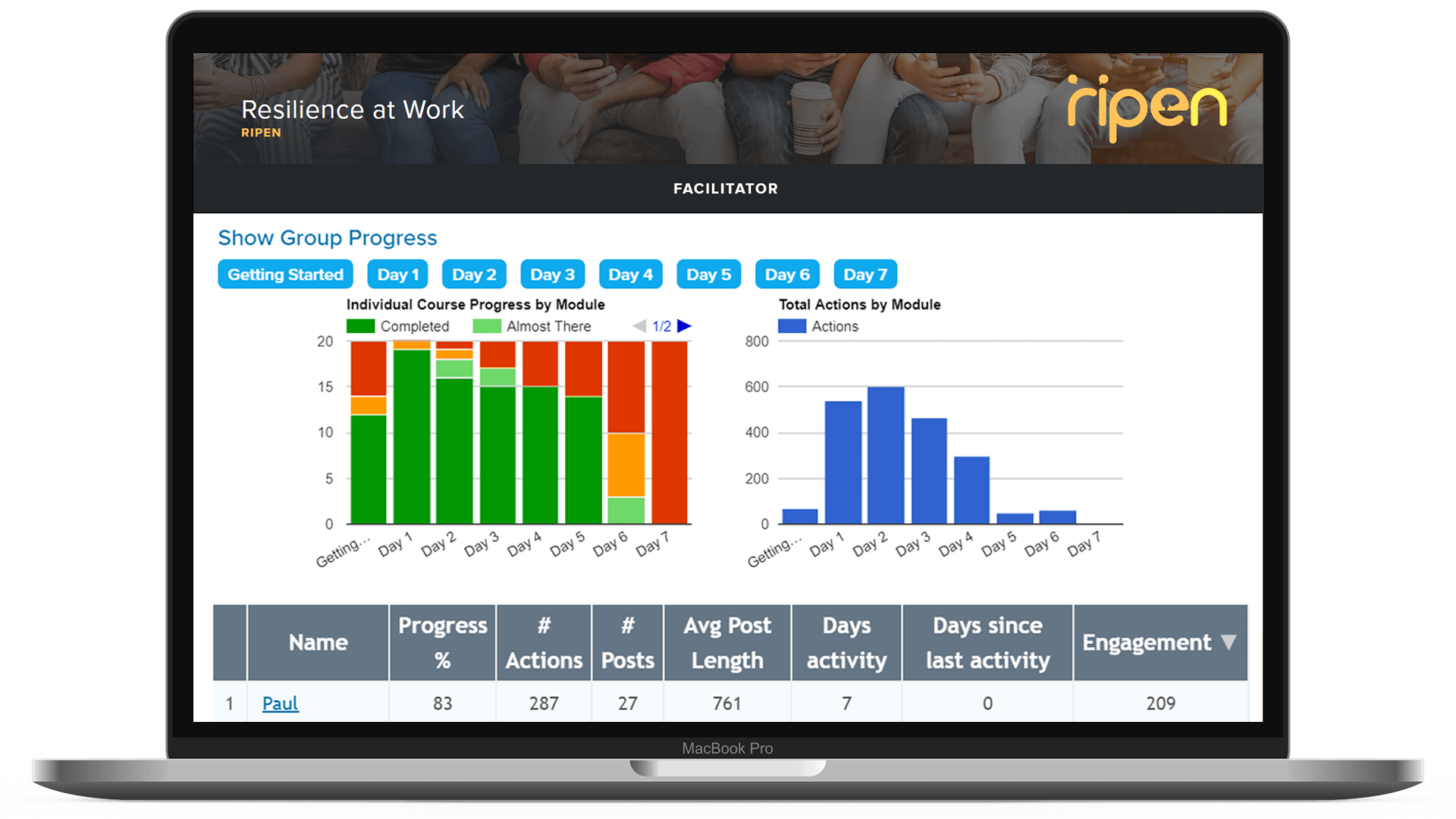 Measure Resilience capability from start to finish.
Is this course for your team or organisation?
Teaching practical and proven Resilience abilities, the course focus is to increase…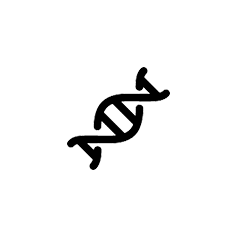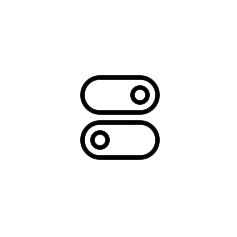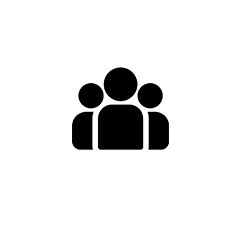 GETTING STARTED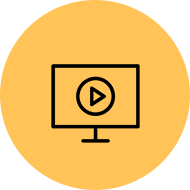 Why is Resilience important (includes a kick-off webinar)
DAY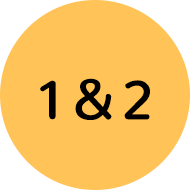 Resilience skills of elite performers and the impact of mindset.
DAY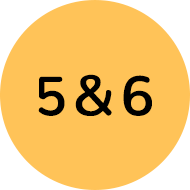 Self-regulation and navigating unexpected change.
DAY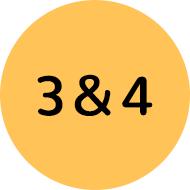 Taking charge of your mindset & your physical and emotional wellbeing.
DAY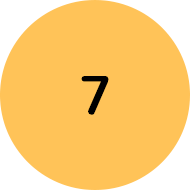 Developing and implementing a personalised Resilience Plan.
END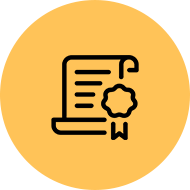 Certificate in Resilience upon completion.
At an organisational level you will receive reporting on your teams' performance that will make you very excited! You will be able to see engagement levels across your team. You will see the teams capability uplift as a whole and individually. Theirs and your data is water tight and only accessible to those with permissions. Granular level data and analytics can be extracted for your own systems.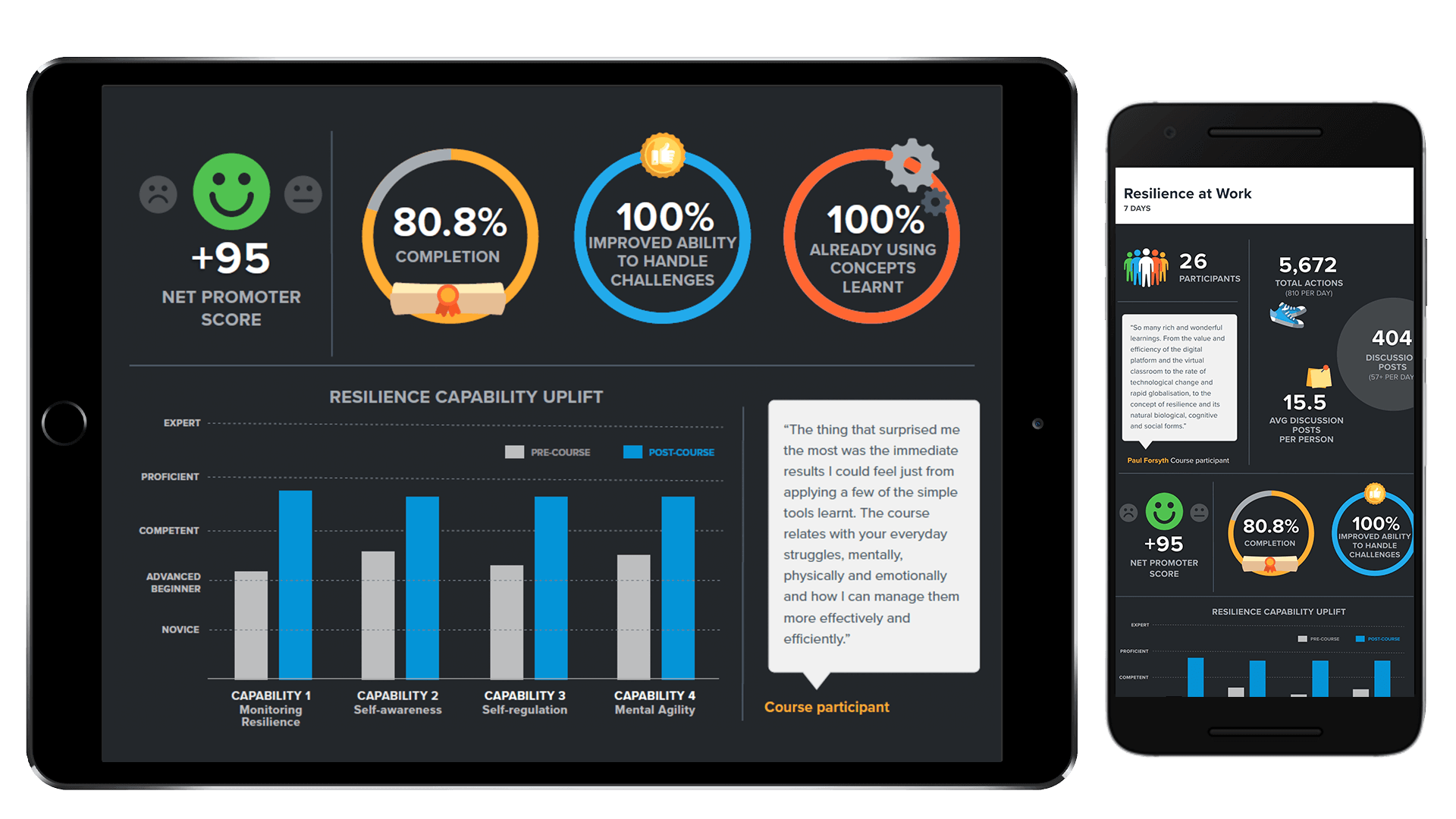 At the end of this course participants have:

Tools to assist with; monitoring their psychological reactions during adversity, 'putting it into perspective' for dealing with imposed change, and taking action to move themselves through setbacks more effectively.

Practiced enhancing their cognitive problem solving skills, including self-awareness, self-regulation and mental agility for navigating themselves through change and setbacks.

Learned the importance of social problem solving during conflict, including the ability to notice and expect the positive, to focus on what they can control, and to take purposeful action.

A personalised Resilience plan for managing their Biological, Cognitive and Social Resilience day-to-day.
This has been the most practical, engaging, and inspirational course I have completed in many years. Learning these simple techniques that build on one another or can be used in isolation has the power to change how you interact with the world around you. I definitely feel like a much stronger and more resilient person for completing this course, and I know how to stay that way! Thank you.

Kath Philp,
Partnering & Innovation Manager (Apr, 2021)
I've been physically and emotionally challenged by work stress and exhaustion so simple immediate tools to reset have been a godsend. This course has been so powerful because it's a blueprint for managing how we approach not just work, but life ! Thank you!

Don Hudspeth,
Acting Station & Field Operations Manager (Apr, 2021)
It was helpful to be introduced to the theory, hear some examples, and then jump straight into the practical work! I'm very action-oriented so LOVED that I could apply these new skills right then and there! The facilitation and support delivered has been the best I have ever received in ANY course. In my mind the level of one-on-one attention, support and guidance far exceeded what I would have reasonably expected to receive in face-to-face group learning.

Natalie Klak,
Team Leader – AUSTRAC (Apr, 2021)
I am delighted that this opportunity come up. The timing was really convenient for me, as I was looking at my mindset and ways to change it. Being more aware of how I can change my own mindset, coupled with the tools I have been shown how to use, I will not find myself struggling with situations so much and getting overburdened with my emotions and the pressure I was placing on myself.

Neville Pye,
Election Material and Warehouse Operations Support (Apr, 2021)
This was brilliant, and I thoroughly enjoyed every minute. Genuinely looked forward to starting the next module.

Angela Tildsley,
Senior Project Officer – Communications (Apr, 2021)
Extremely responsive and supportive facilitators. Always felt listened to, which in turn led to greater engagement with the activities. Tangible tools and a plan to hold myself accountable will ensure I use these proven techniques when navigating future challenges. Thanks to you all for running the course! Great job!

Patrick Flannery,
Graduate – AEC (Apr, 2021)
The resilience training is at the forefront of my mind every day. I use the tools to check in with my emotions and behaviour, I self-regulate and challenge my limiting beliefs and I utilize self-care techniques and ensure I am following my Resilience Action Plan. The resilience concepts and techniques have really resonated with me and I feel that I can easily implement them moving forward. Thank you!

Melinda Warda,
Intelligence Analyst (Apr, 2021) 
I've got more tools to help me reflect and self regulate - by keeping my emotional response to issues in check, I am able to be more confident and focus on the task at hand and nip procrastination in the bud.

Helen Agelidis,
Senior Project Manager (Dec, 2020)
The interactive activities are a great way to get you thinking not just listening. Really good balance of video content and activity. Great takeaways and easy prompts to take into work and family life.

Anna Lane,
Procurement Category Manager (Dec, 2020)
Loved it! This is definitely one of the best courses that I have done. The way it has been structured, the engagement, the effort that has gone in to it to use various learning techniques to engage me has been excellent. Great course, very impressive.

Ben Cooper,
Head of Quality (Oct, 2020)
The explanation and examples were spot on and easy to understand and the course included a really engaged coach making sure to personalise comments to each and every individual. It feels like consulting a mind expert who often checks in with me for the entire 7 days! This course has prepared us to navigate the unknown by preparing us to be future-ready.

Sue San Goh,
Head of Marketing International & Singapore (Oct, 2020)
This course presented itself in a very critical moment of my professional career due to dramatic imposed changes currently affecting my daily routine. The techniques I was presented with in this course will most certainly help me to navigate through these changes with more resilience.

Cassius Almeida,
Sales Manager (Oct, 2020)
I am now checking in with myself at least 3 times a day to learn to create awareness of how I am feeling, how I am coping and how my emotions may be affecting my reactions and others. The videos were really good - thanks for providing them as it was like I was in a classroom with you.

Michelle Fernandez,
Ethical Sourcing Manger (Oct, 2020)
Some great tools to help self awareness and how to control limiting thoughts. Excellent course and would highly recommend.

Greg Findlay,
Recruitment & STPP Manager (Oct, 2020)
Like the course content, way it was presented, the platform used and also the facilitators. The learning content was short, to the point and easy to follow. Very important when we are following this course while doing other work. Good work team!!

Nirmal Weerasekara,
Principal Engineer (Oct, 2020)
I was most surprised at how engaging the course was and very much felt that we were part of it together as a cohort being led by the facilitator. I am now very conscious of mindset and how I start and end the day. Well done ripen and Blackmores for enabling this opportunity.

Raffaele D'Alisa,
Executive Advisor & Head of Strategic Communications (Sep, 2020)
Thanks a lot for this great course! The information I learned has already had an impact on the way I'm thinking about challenges I'm currently facing. I feel I'm a much mentally stronger person now 🙂

Svetlana Tagg,
Key Relationship Manager (Sep, 2020)
The concepts in the course are what I was expecting to find, but cleared up a lot of half-understanding / miss-interpretations from my hap-hazard learning of some of this material through the school of life 🙂 I'm already applying the mindset concepts. Also putting the physical well-being into practice - with an increase in physical activity.

Gerry Calderhead,
Head of Delivery Management (Sep, 2020)
I thought the course was fantastic and it was amazing to see members of my teams all participating and really engaged. I really was blown away by it. It was amazing how proactive the facilitators were in responding.

Fi McNicoll,
People Operations Manager (Sep, 2020)
Taking this course has provided me with a new set of tools that will help me to better assess where my mindset is on a daily or situational basis. I can assess my emotions, my behaviors, and my actions. I have tools to analyze each and the tools to reset them. It has opened up my awareness in new ways that will be tremendously beneficial as I move forward.

Kathy Pendleton,
Education Integration Manager (Sep, 2020)
The content and benefit of the course was excellent and great value for money. Interactive and the discussion forums were excellent! This was a valuable part, getting to engage with others.

Bobbi Pertini,
Manager People Culture and Safety – Yorke Peninsula Council (July, 2020)
Fast feedback and support. Made me feel like I was in the city doing a week long training course or something along those lines! I can use these new skills to assist me in all future challenges 🙂 Thank you so much! This has truly been life changing for me.

Sharna Lim,
Events Officer – City Of Parramatta Council (July, 2020)
Great course, great structure, great resources. The course was relatable, pragmatic and fit for purpose. The course was structured in such a way that it was easy to follow, easy to comprehend and useful in the real world, i.e. current work situations. Thank you for a really enjoyable course.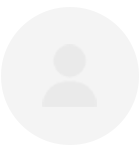 Melinda Love,
Senior Advisor – Transport and Main Roads (Queensland) (July, 2020)
I have been raving about this course to family, work colleagues and friends. Very highly recommend.

Liz Psaila,
Director, Solution Delivery Services – QLD Health (July, 2020)
The structure of the program enabled the immediate application of the concepts. Great way to learn, reflect and keep practicing. I love this style of learning and wish this could be used more often in our work place. I hope that everyone in the organisation gets a chance to undertake this program.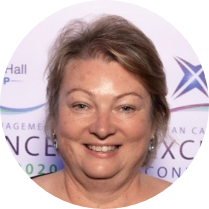 Gill McEwen,
Director of Education – Blackmores Institute (June, 2020)
The benefit of this course is it opens your mind to identifying mindset - but then from day one makes you practice the things you've learned. I found that doing a little bit every day was far more beneficial to me than trying to take all this information in over a couple of full days. The Personalised responses by facilitators also made it stand apart from a purely online course.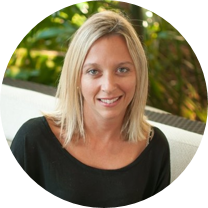 Tiffany Elvy,
Senior Communications & Content Manager (June, 2020)
A colleague and I applied the mindset techniques to turn our feeling of frustration towards creative solutions, with successful outcomes. Great examples to demonstrate the concepts. The activities made me stop, think and apply (or learn to apply).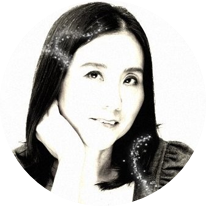 Kerrie Setiawan,
Head of Analytical Services (June, 2020)
Really loved this course. I am happy to have had the opportunity to join and learn the key techniques and abilities to become a more resilient person. My major take away from this course is that attitude, behaviour, emotions, perspective, habits are all things I can control. Being armed with this awareness makes it a lot easier to have a positive can-do attitude and help to find other ways to tackle anything.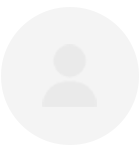 Diana Ribu,
Project Manager (June, 2020)
This has been an amazing program - one of those ones that will stay with me in the long term - the ease and simple tools are great and I know have strong psychology theory sitting behind them. Well done!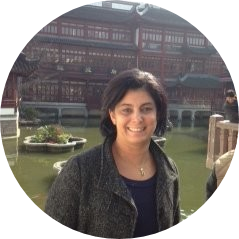 Kiran Hajos,
HR Director ANZ (May, 2020)
Tremendous toolkit and module break down of content. All manageable within a full-time workload. Simply brilliant! I learnt a lot and I would highly recommend this course and platform of learning to anyone and everyone!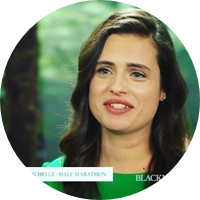 Michelle Clark,
Shopper Marketing Manager (Apr, 2020)
Such incredible timing to have the whole team going through this! Already the language across the board and even in emails has changed! People are calling one another out, and speaking about the mindset and self regulation techniques.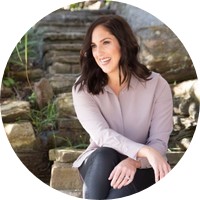 Erin Evans,
Co-Founder | Director (Apr, 2020)
Created a level of self-awareness that can guide me in any situation moving forward. Engagement and response rate is incredible! Very good platform - great UX.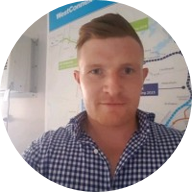 Simon P Ryan,
Learning & Development Manager APAC – Mining (Apr, 2020)
The tools provided in this course make it easy to implement and I have enjoyed the learning. Direct, to the point and good stories well explained, meaning I was not left wondering what do I have to do. Facilitators' responses and interaction were spot on and extremely timely.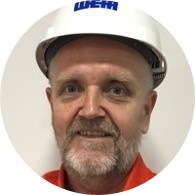 Tony Millar,
Technical Learning Program Specialist – Mining (Apr, 2020)
Professional, practical, clear and concise learning videos and activities, with techniques I can easily apply in real life.

Ian Rose,
Warehouse and Distribution Manager – Mining (Apr, 2020)
I am really grateful for this course and grateful for the timing specifically. There are some great tools in there that I know I will be of help in the future to me and in all areas. I am very much interested in the psychology aspect and this was a great thing for me to do.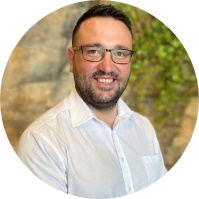 Jon Browne,
Senior BI and Analytics Recruiter (Apr, 2020)
It's given me whole a new perspective on mainly how I approach work and access to techniques I would never have thought of by myself which will be very beneficial to me. Great platform, easy to navigate and very user friendly.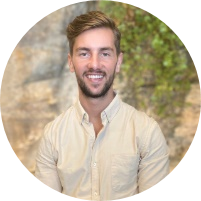 Tim Louch,
Senior Recruitment Consultant (Apr, 2020)
The timing for me doing this course could not have been better. I feel like I have reset myself and can control my thoughts and think about things with a positive outlook. Now I have the tools to help me through this testing time.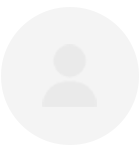 Elizabeth Garcia,
Head of Manufacturing Quality (Apr, 2020)
Loved the course and cannot recommend it highly enough for all staff and anyone to complete. Really engaging and kept concepts from a real life view which resonated. The Group learning environment and balance of group vs. personal reflection was a strong approach. Thank you.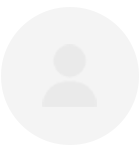 Talita Kendall,
QLD State Sales Manager (Apr, 2020)
Congratulations on a very well presented and enlightening experience for me. It's given me insight into concepts that are very effective and retentive. It's about light bulb moments and there were a few of those along the way. Really happy to have been a participant of this course.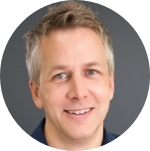 Graeme Millar,
Global Customer Services Manager (Mar, 2020)
I am already measuring my mindset and using emotional regulation tactics to switch between work and family life. The support and activity of the course facilitators was terrific.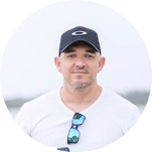 Jay Daley,
Senior Product Marketing Manager (Mar, 2020)
The thing that surprised me the most was the immediate results I could feel just from applying a few of the simple tools learnt. The course relates with your everyday struggles, mentally, physically and emotionally and how I can manage them more effectively and efficiently.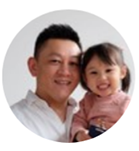 Jason Tong,
Warehouse Manager (Feb, 2020)
This course has very systematically embedded some wonderful new skills, behaviours, processes and tools to make me a more effective manager and an even better person. I am truly grateful for the experience to participate.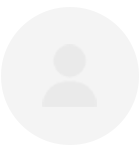 Paul Forsyth,
State Field Business Manager (Feb, 2020)
I am about to start a new role and now I have a clear action plan that will help me approach it. There are various elements I have learnt about mindset, resilience and dealing with change I have started to share with my team members. Most importantly I have more self-belief, value and worth than I did a week ago.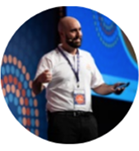 Russell Coughlan,
State Sales Manager (Feb, 2020)
We work with the industry's best.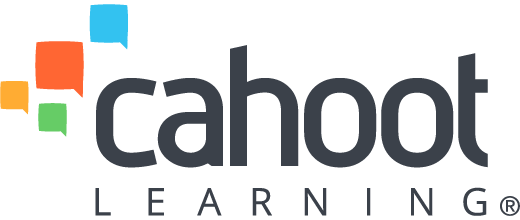 Digital Learning Innovation!
The power of team based learning combined with the cost, scale & flexibility benefits of digital.
Course start date:

19th July 2021
Course end date:

27th July 2021
Registrations close on: 12th July 2021

LENGTH: 7 DAYS (NOT WEEKEND)          EFFORT: APPROX. 1 HOUR PER DAY
Enroll now, or talk to us about a private course…